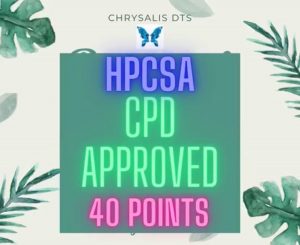 *The Personal Growth Course* has been designed by Chrysalis Development and Training Solutions, it has been approved for 40 CPD points by the HPCSA. It is a 12 week course in August 2022. It focuses on your Personal Growth and the facets and themes that mould and shape us as individuals. Asking the question: "Who are you?"
*Cost:*
R1 300 per month, over 3 months (Total R3 900).
*When:*
Exact date and time to be confirmed
*Where:*
Live sessions via Zoom
*Course Outline:*
▪︎ Uncovering your narrative.
▪︎ Developing and improving relationships.
▪︎ How to communicate effectively.
▪︎Develop greater self-awareness and discover and understand yourself on a deeper level.
▪︎ And so much more!
This is a course that everyone can benefit from, no matter your struggles or situation. 
Take the step to learn new skills and habits to be a version of yourself that is stronger, more courageous and confident. Invest your time and energy to learn new mindsets.
*Growth is experiencing and expanding into a greater version of yourself*
*There are limited spaces available.*